Deadline Extension – Your chance to submit your abstract until 25th of February 2015.

It is great to have you affiliated with the European College of Sport Science (ECSS).

We would like to make sure that you get the most out of your affiliation and thus we remind you about our 20th annual Congress, ECSS Malmö 2015. The congress promises to be an amazing celebration of sport science with a Scandinavian touch. The abstract submission closes 15th of February 2015. We would very much encourage your membership to get involved. To submit an abstract, please follow the instructions here.


As being affiliated with the ECSS we provide you with several ways to be involved at the ECSS annual meeting.Firstly,we kindly invite you to be part of our outstanding exhibition. We provide you with reduction of the stand fee (20 %) and minimum stand size (4sqm) to promote your association or institution at ECSS Malmö 2015. Please find more information here.In addition, the exhibition manual is now available here.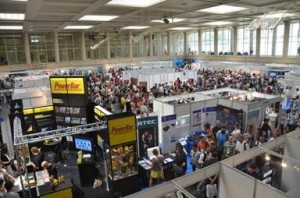 Secondly, it will be possible for you to send us a congress bag insert with a 20 % discount. This is a great opportunity for you to promote your activities to over 2,500 international congress participants. For more information, please contact: sales@sport-science.org.

| | |
| --- | --- |
| | Furthermore,outside the framework of our congress we would encourage you to read our 2014 Annual Review which is now available for download here. The year 2014 was a successful year for the ECSS and we would like to thank you for being part of it. |
| | Lastly, in early 2014 our official journal, European Journal of Sport Science (EJSS) published a supplement issue. We still have a great amount of hard copies available and we are happy send them to you. Please indicate your interest and fill out the form here. |

Once more thank you for being with us and we are looking forward to our future collaboration. In case you have any queries, please do not hesitate to contact us. We are happy to assist.

Kind regards,

Tuulia
Tuulia Hokkanen
Media and Communication Manager
European College of Sport Science
Feldblumenweg 26
50585 Cologne
Germany
phone
+49 221 96262771
fax
+49 221 96262779
sport-science.org
ecss-congress.eu
share your knowledge
VAT-ID: DE251715668 – St.Nr.: 223/5905/0216 – register of associations: VR12508
The ECSS is a non-profit organisation dedicated to Sport Science.